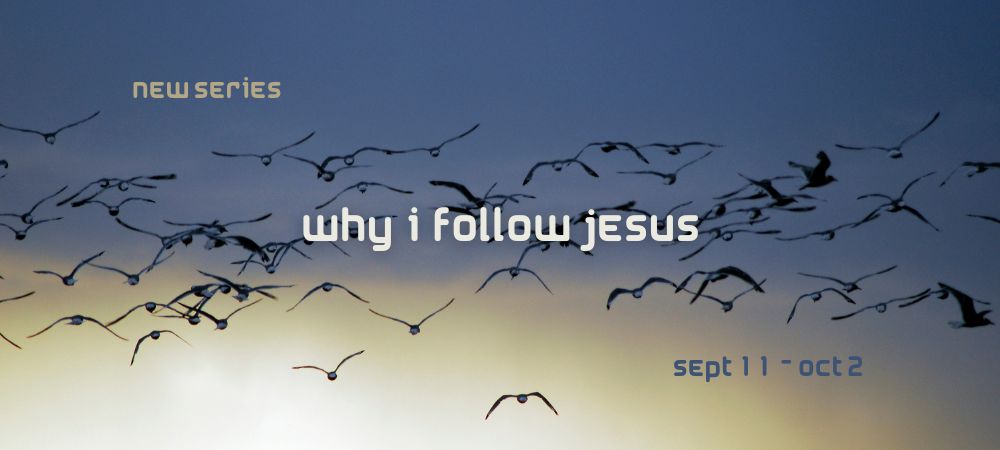 Why I Follow Jesus
September 11 – October 2, 2022
You don't have to read or watch the news for long to feel the world is a dark place. From wars overseas, to violence and injustice at home, to climate change that threatens our whole planet, life can seem overwhelming and out of control. What does it mean to "follow Jesus," two thousand years after the first disciples heeded his call? What relevance does it have for our wounded and polarized society?
Jesus calls to us, "Come to me and learn from me," and assures us, "I am with you!" so that together we can build the Kingdom of God—a "Beautiful City" out of the ruins and rubble, a "Beloved Community" out of the hatred and despair. In this interactive, discussion-based series, we will explore why we follow Jesus, with a view to rekindling hope and reigniting our passion.
| | | |
| --- | --- | --- |
| Date | Message | Speaker |
| September 11 | Why I Follow Jesus: Intro | Matthew |
| September 18 | Why I Follow Jesus: Part 1 | Ruth |
| September 25 | Why I Follow Jesus: Part 2 | Bryan |
| October 2 | Why I Follow Jesus: Part 3 | Matthew |
In-Person and Online Sunday Services
Our 10AM Sunday services are held in-person, as well as live-streamed over zoom. Masks must be worn for in-person services, and social distancing is recommended at this time. Everyone is welcome. We hope you can join us!
Welcome!
Cedar Ridge Community Church is a diverse, open, and affirming community of followers of Jesus, sharing God's love with everyone and working to make the world a better place for all. We invite you to join us on our journey of growing to be more loving people who recognize that change must begin with us.