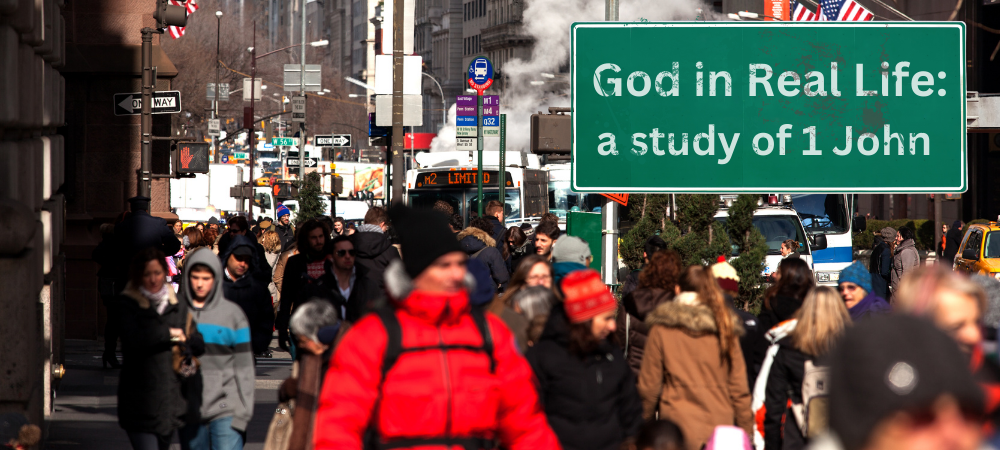 God in Real Life: a study of 1 John
February 5 – 19, 2023
The First Letter of John was written around the turn of the first century, at a time when many followers of Jesus were struggling with what faithfulness to Jesus looked like in real life. Written from within a community based on the traditions of Jesus' "beloved" disciple, John, the letter encourages and challenges the extended community in light of bitter disagreements, rival factions, and people leaving the movement. Some—who held a view that the material world is inherently evil and corrupt—claimed Jesus was a divine spirit who only seemed to appear as a human being. The author of the letter emphatically refutes this, and points back to the community's tradition that began with someone who had actually seen, touched, and listened to Jesus over a prolonged period of time.
This dispute might seem irrelevant to us today, but this letter has profound implications. For the author, the incarnation (God being with us, born into and living in our very real, material world) was the manifestation of heaven on earth. Jesus is God's Light coming into the world, opening our eyes to a new reality—that God is with us, here and now! And Jesus is God's Love coming into the world, not to remove us from our humanity, but joining with us in it, to fulfill all our inherent beauty and wonder. The Light brings a new understanding, and Love is the response. This has vital practical implications for us today. The purpose of following Jesus is not to escape this world, but to live real life here and now. And that means how we live, here and now, really matters. So in this series we will explore what it means to let the Light in. How can we take on this new consciousness that Jesus brings? And we'll wrestle with the challenge and difficulty of embodying Love ourselves. We are loved, and called to love, so how do we practically live out Jesus' "new" commandment to "love one another" above all else?
| | | |
| --- | --- | --- |
| Date | Message | Speaker |
| Feb 5 | God is Life (1 John 1:1-4) | Matthew |
| Feb 12 | God is Light (1 John 1:5-3:10) | Ruth |
| Feb 19 | God is Love (1 John 3:11-5:21) | Matthew |
In-Person and Online Sunday Services
Our 10AM Sunday services are held in-person, as well as live-streamed over zoom. Masks must be worn for in-person services at this time. Everyone is welcome. We hope you can join us!
Welcome!
Cedar Ridge Community Church is a diverse, open, and affirming community of followers of Jesus, sharing God's love with everyone and working to make the world a better place for all. We invite you to join us on our journey of growing to be more loving people who recognize that change must begin with us.