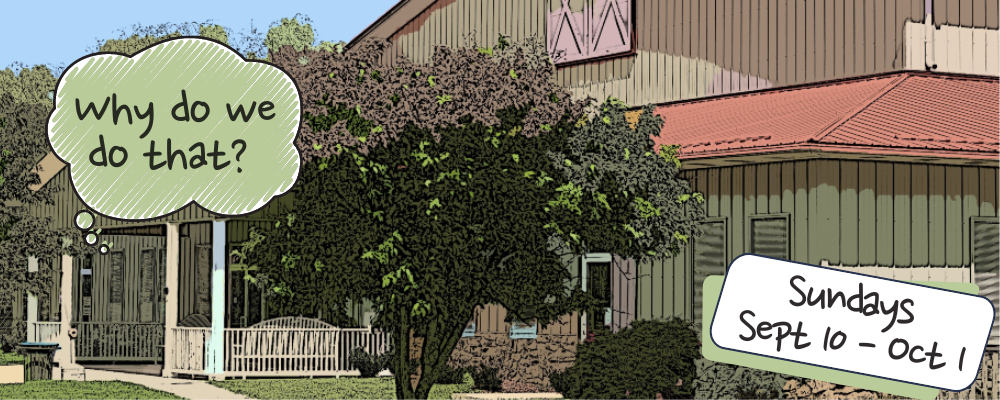 Why do we do that?
September 10 – October 1
People often comment that we are not like other churches. And in this four-week series, we will explore why we do some of the things we do. We will examine the distinctive values and practices of our community, and how they fit into the 2000-year history of Christ's Church. We will ask questions such as: Why do we gather to worship, serve, and pursue justice together? Why do we consider acceptance, vulnerability and inclusion so important? And do we really have all the answers? (Spoiler alert: no we don't!) Together we will celebrate who we are and want to become as a community together.
Questions for reflection and discussion will be available each week for this series.
Children and youth will explore these same themes in age-appropriate ways. For more details, visit the Children and Youth page.
| | | |
| --- | --- | --- |
| Date | Message | Speaker |
| September 10 | Why growth, community and servanthood? | Matthew |
| September 17 | Why we gather to worship | Ruth |
| September 24 | Why I follow Jesus | Wesley |
| October 1 | Why we are inclusive | Matthew |
In-Person and Online Sunday Services
Our 10AM Sunday services are held in-person, as well as live-streamed over zoom. Masks must be worn for in-person services at this time. Everyone is welcome. We hope you can join us!
Welcome!
Cedar Ridge Community Church is a diverse, open, and affirming community of followers of Jesus, sharing God's love with everyone and working to make the world a better place for all. We invite you to join us on our journey of growing to be more loving people who recognize that change must begin with us.