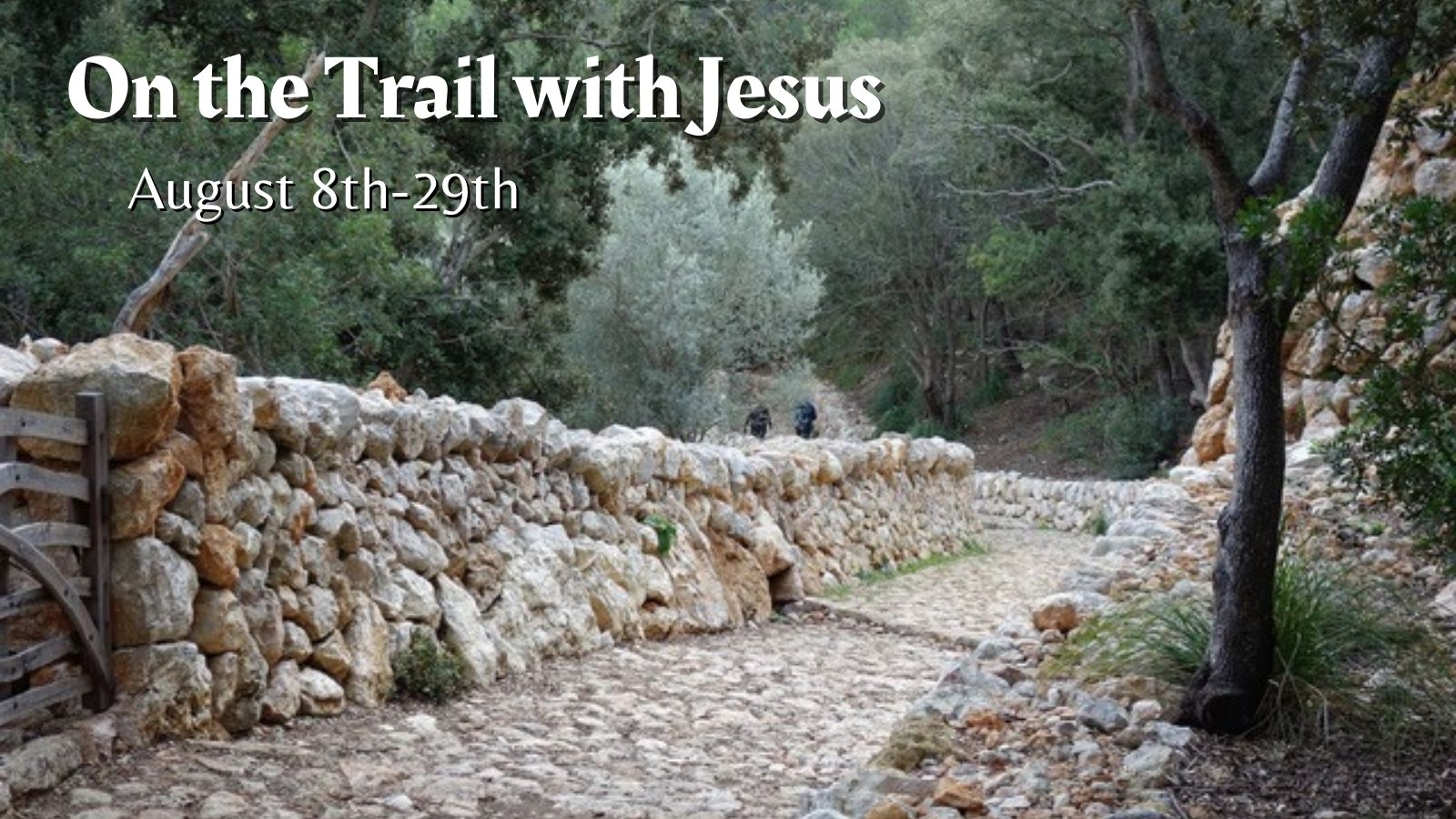 "On the Trail with Jesus"
This summer, we will take a (virtual) trip to northern Israel to trek a 40-mile path that Jesus and his disciples must have taken many times. Travelling from Nazareth to Capernaum, we will gaze down from hillsides onto cultivated fields and vineyards. We will take tours of ruins, and stop by museums to see artifacts that illustrate daily life 2000 years ago. We will put ourselves in the sandals of first century people who followed Jesus along the shores of Lake Galilee. And we will listen again to words spoken thousands of years ago in a foreign tongue and an alien culture—"Listen to me, all of you, and understand." (Mark 7:14)
Through this 4-week multimedia series we will learn about the culture, politics, and geography of Jesus and his first followers, and how this can impact our reading of the gospel accounts. We will explore how first-century challenges are mirrored in our own culture, and we will seek to listen to Jesus with greater understanding.
Day 1: Nazareth to Cana 
The trail goes through the Old City of Nazareth and then ascends via steep stairways to the ridge overlooking the city. From there the trail goes out into agricultural fields towards the extensively excavated ancient city of Sepphoris. After passing through the Arab village of Mash'had the trail arrives at Kafr Kanna, the traditional site of Jesus turning water into wine.
Day 2: Cana to Lavi 
After leaving Cana, the trail goes almost entirely along forests and through natural and cultivated fields to end at the outskirts of the modern Jewish agricultural commune of Lavi, which is located near the hill of the Horns of Hattin. This section includes a Roman road and the ruins of Shejara—an Arab village "depopulated by the Israeli military." 
Day 3: Lavi to the Sea of Galilee 
This stretch goes from hilltop to hilltop, from the panoramic view at the Horns of Hattin, down to the Sea of Galilee, passing by ancient olive trees. 
Day 4: Mount of Beatitudes and Capernaum 
The trail arrives at the northern shore of the lake to the church at Tabgha which commemorates Jesus feeding the multitudes, then to the church and gardens at the Mount of Beatitudes, which commemorates the Sermon on the Mount, and then finally arriving at the ancient lakeside fishing village of Capernaum with its extensive ruins.
| | | |
| --- | --- | --- |
| Date | Message | Speaker |
| Aug 8 | From Nazareth to Cana | Ruth |
| Aug 15 | From Cana to Lavi | Matthew |
| Aug 22 | From Lavi to the Sea of Galilee | Ruth |
| Aug 29 | Mount of Beatitudes and Capernaum  | Matthew |
Virtual Sunday Service
Join us at 10 AM on Sundays via Zoom for our Virtual Sunday Service.