Staff
The following is a list of our staff members. Feel free to email us with questions at info@crcc.org or email a staff member directly.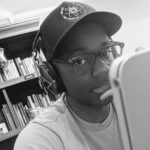 Jermaine Walker
Director of Administration and Communication
Jermaine started attending Cedar Ridge after he and his wife, Brandy, began listening to recorded services on our website in 2009. A student of piano from a young age, he first volunteered to join the music ministry then later took on the responsibility of helping teach and mentor our lively middle school students. From 2010 to 2018, Jermaine served in the U.S. Army as a digital media specialist, and he recently joined the Cedar Ridge staff in the summer of 2021. Jermaine supports our community by creating digital products, maintaining the church website, and using media to communicate our message of love and inclusion. He has a passion for learning new technology, playing and listening to music, and building community through art. Some say he is a "foodie," and he has recently started to explore vegan/vegetarian cuisine.