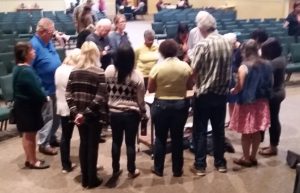 During the summer of 2015, a team was formed for the purpose of determining ways of engaging with issues of race and reconciliation with thoughtful leadership and planning. Tasked with defining and furthering Cedar Ridge's work in this area, the Race & Reconciliation team has organized various educational events and continues to seek meaningful ways to keep this important theme in the forefront at Cedar Ridge.
All are welcome to join the team for a prayer circle every 4th Sunday of the month, immediately following the service. We gather at the front of the auditorium and devote fifteen minutes to prayer on the theme of race and reconciliation with guidance from a facilitator. Come and join us in this powerful opportunity for our entire community to make change with God together.
Invitation to Action: A few volunteers are needed to join a short-term action-research group, which will identify actions our congregation can take to challenge and change racial inequity in education in our immediate area (Howard County, Montgomery County and Prince George's County).  The group will be discussing the participants' varied experiences in education, and will do a modest amount of research together. These activities will help develop a shared understanding of how race intersects with education in our area. The group will meet approximately 4 – 6 times between now and the end of August. If you are interested, please email Rachel Anderson.
Read more: Together on a Journey Towards Reconciliation