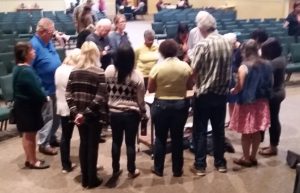 During the summer of 2015, a team was formed for the purpose of determining ways of engaging with issues of race and reconciliation with thoughtful leadership and planning. Tasked with defining and furthering Cedar Ridge's work in this area, the Race & Reconciliation team organized the MLK Day "I Have A Dream" Film Screening in January and continues to seek meaningful ways to keep this important theme in the forefront at Cedar Ridge.
All are welcome to join the team for a prayer circle every 4th Sunday of the month, immediately following the service. We gather at the front of the auditorium and devote fifteen minutes to prayer on the theme of race and reconciliation with guidance from a facilitator. Come and join us in this powerful opportunity for our entire community to make change with God together.
Upcoming Events:
I Have A Dream: Monday, January 16, 10 AM-12 Noon
Join us for a screening of Martin Luther King Jr.'s historic "I Have A Dream" speech in the auditorium, followed by remarks by a panel of leaders from different faith traditions, and a time for Q&A. Take away suggestions for ways to serve in honor of Dr. King. Refreshments will be served and child-friendly activities will be provided. Sign up in the commons to let us know if you plan to attend.
Read more: Together on a Journey Towards Reconciliation