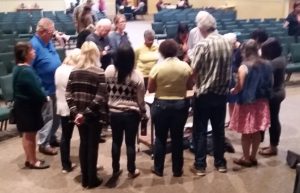 Concern for racial justice and reconciliation is core to our identity as a community committed to following the way of Jesus. Through various events throughout the year, we seek to deepen our awareness and understanding of historic and current racial issues that cause pain and inequities in our community and in society as a whole. We seek to create a safe and inclusive space where we can have open and honest dialogue about race so we can better understand the significance of diversity in the world, and empower and equip our community to live out God's vision of peace and justice
All are welcome to join the team for a prayer circle every 4th Sunday of the month, immediately following the service. We gather at the front of the auditorium and devote fifteen minutes to prayer on the theme of race and reconciliation with guidance from a facilitator. Come and join us in this powerful opportunity for our entire community to make change with God together.
An action-research group is currently looking at racial inequity in education in our immediate area (Howard County, Montgomery County and Prince George's County). There are three ways you can support this initiative:
Pray for…

The students and teachers at the schools in your neighborhood
The growing disparity between schools—both from the perspective of race and income
Discernment about how to respond as an individual and as a community

Provide support to Greencastle Elementary School through the Food in Backpacks program and the Birthday Books program.
Get involved by signing up for our Racial Equity and Justice in our Schools workshop. To learn more, please email Rachel Anderson.
Other recent events have included books studies focused on Educating All God's Children and Just Mercy, as well as a workshop entitled "How We Got Here: The Racial history Behind Today's Headlines."
Read more: Together on a Journey Towards Reconciliation