Two Ways to Read The Quarterly Newsletter Online
2. View the Flipbook
Click on the full screen viewing option and view it your browser below.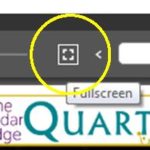 Highlights from the Quarterly Newsletter
Read articles from previous editions of the Quarterly Newsletter.
For the foolishness of God is wiser than human wisdom: I Cor. 1:25 (NIV) We know them as magi, wise men, or kings, but they would more accurately be called enigmas. Tradition has colored in some of the missing information, but Matthew's gospel includes very little...
"Join us for a Lenten workshop on Simplifying Life"—my heart leapt as I heard those words one Sunday morning. Oh my gosh, I would love nothing more than to simplify. With two kids, a demanding job with lots of international travel, and a house, life often feels...