Two Ways to Read The Quarterly Newsletter Online
2. View the Flipbook
Click on the full screen viewing option and view it your browser below.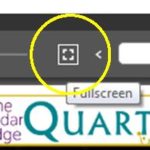 Highlights from the Quarterly Newsletter
Read articles from previous editions of the Quarterly Newsletter.
My name is Darren Freeman-Coppadge. I was born and raised in Maryland, and save for a recent 5-year stint in Massachusetts, I've lived here my entire life. My family and I have been going to Cedar Ridge for some time. My husband first started attending CRCC in 2003...
I dreaded talking about theology with my kids for so long. I don't want to give them my baggage, and there's a lot of mystery to embrace. I grew up in some fear- and guilt-based communities. My earliest encounter with the "gospel" included me begging God not to let me...