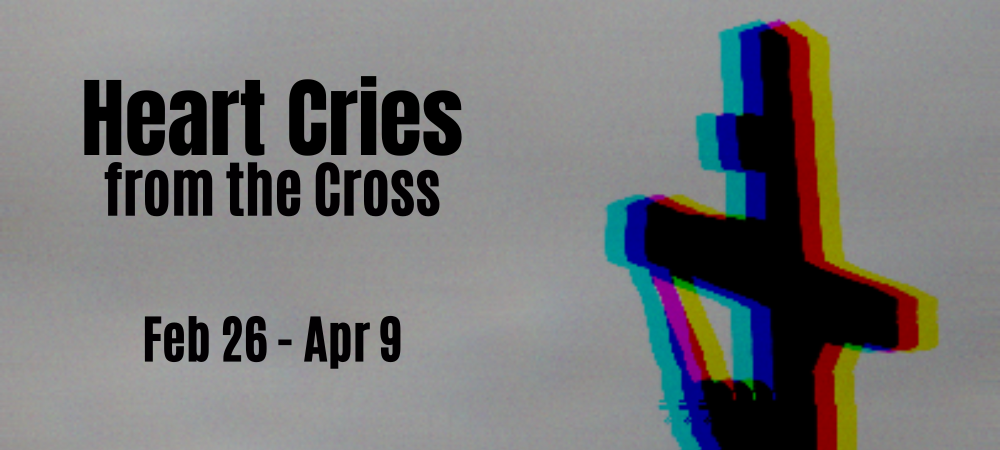 Heart Cries from the Cross: Lent 2023
February 26 – April 9
The authors of the gospels collectively record seven statements made by Jesus on the cross. These brief utterances are significant: They are a record of what Jesus said during the intense, agonizing, and vulnerable hours of his death. On the cross, Jesus was literally and figuratively stripped bare. From the darkness of pain and sorrow, he cried out. But these are more than "dying words"—rather they contain hope, love, and life itself.
Jesus' words from the cross open a unique window into the heart and mind of God. Down through the centuries, people have studied them for their timeless truths. Moreover, they have experienced God's presence in their own lives as they have meditated upon them. This Lent, we will take a contemplative approach to the gospel accounts of Jesus' heart cries from the cross. We will invite God to speak to us afresh through them, to meet us in our vulnerability, and to help us become more like Jesus as we listen to him.
Youth are also engaging in this series. To see what children are learning, click here.
| | | |
| --- | --- | --- |
| Date | Message | Speaker |
| February 26 | The First Word of Forgiveness: "Father, Forgive Them" (Luke 23:32-38) | Matthew |
| March 5 | The Second Word of Hope: "Today You Will Be With Me in Paradise" (Luke 23:39-43) | Matthew |
| March 12 | The Third Word of Belonging: "Woman, Here is Your Son" (John 19:18-27) | Ruth |
| March 19 | The Fourth Word of Abandonment: "My God, My God, Why Have You Forsaken Me?" (Mark 15:24-37) | Matthew |
| March 26 | The Fifth Word of Distress: "I Am Thirsty" (John 19:28-30) | Ruth |
| April 2 (Palm Sunday) | The Sixth Word of Accomplishment: "It is Finished" (John 19:30-37) | Matthew |
| April 7 (Good Friday) | The Seventh Word of Union: "Father, Into Your Hands I Commit My Spirit" (Luke 23:44-24:8) | N/A |
| April 9 (Easter Sunday) | Surprising Words of Hope | Various |
In-Person and Online Sunday Services
Our 10AM Sunday services are held in-person, as well as live-streamed over zoom. Masks must be worn for in-person services at this time. Everyone is welcome. We hope you can join us!
Welcome!
Cedar Ridge Community Church is a diverse, open, and affirming community of followers of Jesus, sharing God's love with everyone and working to make the world a better place for all. We invite you to join us on our journey of growing to be more loving people who recognize that change must begin with us.