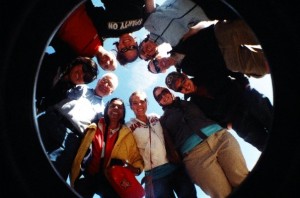 At Cedar Ridge we value both the opportunity to gather in a larger group on Sundays and in small groups we call "Discipleship Groups." Discipleship Groups are an important part of how we live out our vision to follow Jesus and give us a setting in which we can get to know one another better. By gathering in small groups, closer to where we live, we can better care for each other, help one another grow spiritually and reach out to serve others together. It is our belief that we all need this kind of companionship and a closer connection to others than is possible in larger groups alone.
Three times a year, we run a "Discipleship Series," during which our entire community, including children and youth, goes through the same subject matter together. Along with the Sunday messages, groups meet in our surrounding communities to more deeply explore the series topic. These smaller groups provide a setting in which we can get to know others a little better than on Sunday mornings.
Take a look inside discipleship groups here. View a list of available groups here.
Download discipleship group materials here.
In addition to discipleship groups, Cedar Ridge members host various other kinds of small groups. Click the link to learn more about them.