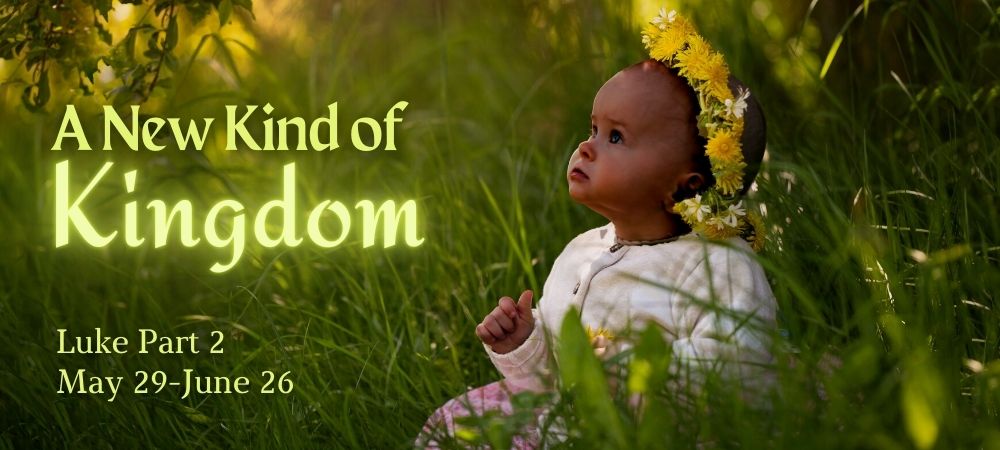 A New Kind of Kingdom: Luke, Part 2
May 29 – June 26, 2022
"Truly I tell you, anyone who will not receive the kingdom of God like a little child will never enter it." (Luke 18:17, NIV)
At the beginning of the year, we explored the first half of Luke's Gospel, accompanying Jesus as he declared his mission, gathered his disciples, healed the sick, and taught the crowds. Filled with God's Spirit, and following in the tradition of the ancient Hebrew prophets, Jesus proclaimed a revolutionary Kingdom, founded on justice and mercy, acceptance and inclusion. But his prophetic challenge to existing religious and political systems gained him a growing number of powerful enemies.
In this five-week series, we will continue with the second half of the Gospel of Luke, in which the implications of the Kingdom ultimately lead to Jesus' rejection and execution. We will explore why the "good news" became so divisive, and the implications of that for our own culture today. We will study the meaning of Jesus' victory over the kingdoms of this world, and will discuss how we can live as citizens of the Kingdom of God in our ordinary, everyday lives.
| | | |
| --- | --- | --- |
| Date | Message | Speaker |
| Sunday May 29 | Citizens of the Kingdom (Luke 14-15) | Matthew |
| Sunday June 5 | Kingdom Currency (Luke 16:1-19:27) | Ruth |
| Sunday June 12 | Kingdoms in Conflict (Luke 19:28-22:6) | Matthew |
| Sunday June 19 | The Heart of the Kingdom (Luke 22:7-23:49) | Ruth |
| Sunday June 26 | The Victorious Kingdom (Luke 23:50-24:53) | Matthew |
Sunday Services at 10AM
Join us at 10AM on Sundays in-person or via Zoom.