Nestled between the metro areas surrounding D.C. and Baltimore, our sixty-three acre parcel property at 2410 Spencerville Road in Montgomery County, Maryland was purchased by Cedar Ridge Community Church in 1996. We constructed a church building and opened our doors in 1998. Since then, the clay dirt surrounding the church and the invasive plant-filled fields have slowly developed into a beautiful property full of flowers, wildlife and opportunity.
We value our property and the creation throughout it. It is intentional that we have bird boxes along our fences, and 'no-mow' meadows in our back yard. We offer a prayer walk that runs throughout our land that offers tranquility and peace in an otherwise busy metropolitan corridor. Much life can be found among the vegetation: we've spotted fox, rabbits, deer and groundhogs, and an endless variety of birds. We host honey bees and enjoy a variety of bugs and butterflies. There are even four geocaches on our property. If you enjoy the outdoors, you are invited to enjoy this land with us!
Prayer Walk
The Cedar Ridge Prayer Walk gives you an opportunity to integrate prayer and reflection with a forty to fifty-minute walk around the 63 acre property.  You can do the prayer in silence, or you can do it conversationally with a friend or two or three.  A prayer walk guide is sitting in a mailbox at the gazebo adjacent to the barn where prayer station #1 is located.
Take the guide with you along the path
.
Each stop on this prayer walk invites you to notice aspects of God's creation that may give you a greater awareness of both the present moment and the patterns in your life. Suggested responses are arranged in two tracks: one for adults and youth, and one for children. Jesus indicated that children have a special connection to the spiritual realm, so don't let your age keep you from trying out the children's track! Take your time, and don't be limited by the text. Look around and notice things that aren't mentioned on the signs. The most rewarding moments in your walk may come from surprises that can't be anticipated. Use all of your senses as you open yourself to the healing, peaceful presence of the Divine.
You will find white posts numbered 1 through 17 throughout the property that is connected by a maintained 5-foot-wide mowed pathway.  The map included in the guide should help you find each stop.
Labyrinth

Located along the prayer walk on 63 acres of pastoral meadows and woods, the labyrinth at Cedar Ridge is a sacred place of beauty and peace where people come to draw closer to God.  All are welcome to walk the winding path of the labyrinth –an ancient spiritual practice dating back thousands of years.
Spiritual seekers throughout the ages have traveled to sacred places bathed in beauty, power, and mystery in order to seek the Presence of God.  Through this quest that is both a spiritual and physical pilgrimage, growth and healing happen not in the arriving, but in the moving — in the journey itself.
Jesus offered a unique and radically different message about Divine Presence. Jesus taught that the dwelling of the Living God is not primarily in a shrine, a building, or any external place, but in each human heart. The journey toward Divine Presence for a follower of Jesus is in many ways an inward journey—not toward some physical destination, but to the deepest center of the soul.
A labyrinth is an ancient prayer tool that symbolizes for many people of faith this mysterious journey to the center of the self where the Divine Light dwells.
Why Walk the Labyrinth?
Seekers bring many different yearnings and needs to a labyrinth. Some seek healing for hurts of the past, and some bring questions about life choices. Others seek comfort for a loss, courage for a challenge, or renewed passion for their vocation or a relationship. Many seek to calm a spiritual restlessness and a longing to uncover hidden gifts or to hear and follow a new calling. Each experience of the labyrinth is its own journey and will be unique.
Meditatively following the labyrinth's one continuous path to the center guides the seeker into stillness and peace, especially as the mind is joined with the intuition, beyond thoughts and words. Walking the labyrinth allows thoughts to quiet and the deep longings of the heart to be heard.  Both movement and vision help to aid concentration in the one goal of seeking God – with each step forward, there may be a letting go of self-centered programs for satisfaction and success, and a receptivity to moving God-ward—collecting scattered thoughts, aligning external senses with internal desire, and ushering the body, mind and spirit into prayer.
Barn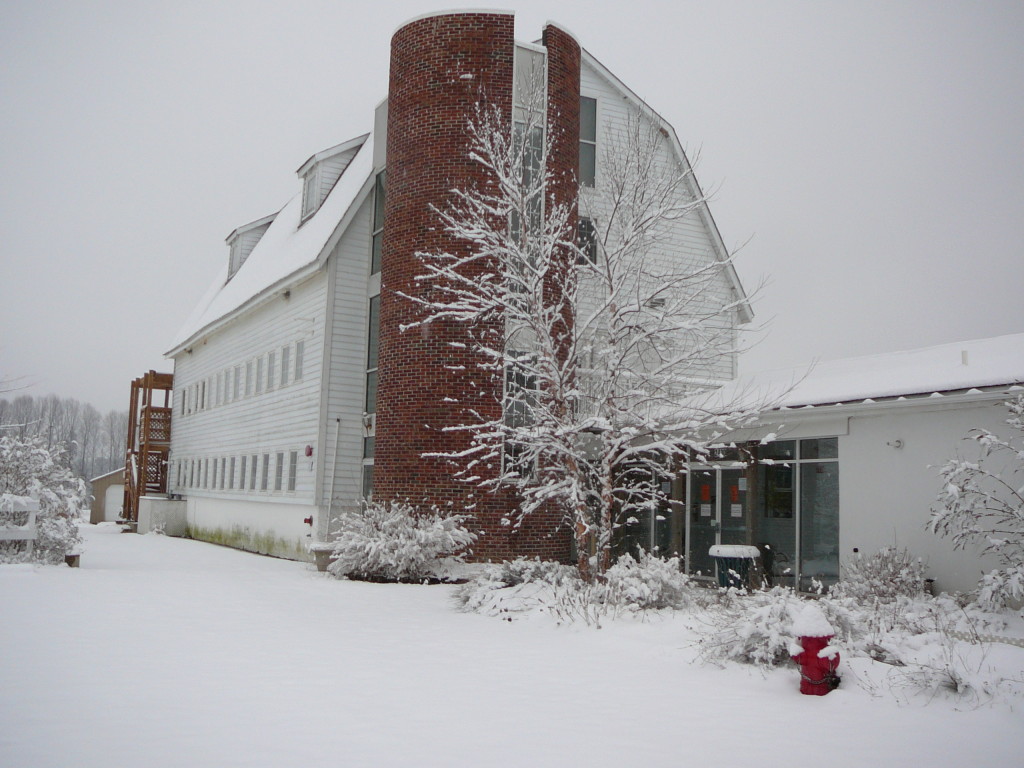 This 1910 wood structure was renovated in 2001 and again adding more structural security in 2008. The Historic Structure was built when the land was owned by William Spencer. It is a 2-story structure that was used as a dairy barn- stalls on the first floor, hay storage on the second. Since those farming days, the barn now functions as meeting space for the Cedar Ridge community. Youth activities are held there on Sundays. The milkhouse is original and historic as well but the silo [stairwell] and lobby with deck were modern features added to connect the barn and milkhouse and provide practical enclosed space during the renovation. Both floors total approximately 4,000 sqft with an architectural delight of 28 foot trusses supporting the roof from the second floor to the vast ceiling.
Workdays on the Property




What Are Workdays?
Cedar Ridge Workdays are Saturdays that we invite all of you to join us on the property to work on property projects. We meet every other Saturday (from March to November) and work together from 8 AM until noon. This is a fun way to meet some new faces, share your talents of tools or landscaping…and really get the church in good shape.
What Do You Do on a Workday?
We work on small projects and big projects… We clean up and cut down… We repair and repaint. We beautify our property by planting a little at a time; grass cutting, weeding and mulching are always on our list. We have planted trees and removed dead ones, we maintain our prayer walk and the wedding garden. On large church-wide workdays we take on bigger and harder projects like painting our historic structures, building fences, replacing a shed roof… With 63 acres, there is always something to maintain, refresh and repaint. There are always invasive plants to clean up and wildflower meadows to establish. The work can be hard, but the day is rewarding. We talk, we eat, we get to know one another—and that is just during the four hours we work together.
When are Workdays?
We meet every other Saturday, give or take a certain holiday. Our goal is to have seasonal workdays when a lot of people can join us on a Saturday morning and accomplish a large project in one day. Having workdays every other Saturday gets tough for many of you with busy schedules, but we'd love to see you any time you are able.
What do you need to bring?
We have tools and supplies and a task at hand, so really, if you bring yourself and maybe a friend, we are off to a great start!  See you on Saturdays in your work clothes!
Farm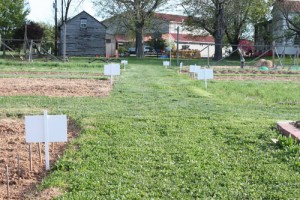 Our farm is a little over a half-acre of vegetable and fruit crops, tended by the Cedar Ridge community. Each year we grow well over a ton of organic food, which is given to local groups that serve the hungry and homeless. Although Maryland is the wealthiest state in the US as measured by median household income (and Montgomery County is the second wealthiest county in Maryland) poverty and hunger are widespread and growing problems.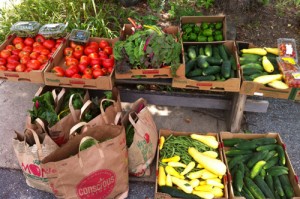 In addition to providing food to neighbors in need, the farm is a way for us to take a stand on the issue of hunger. Through the farm we form alliances with other groups working on this issue. We sow, weed, water, harvest and give our time and toil because people who are often marginalized in our society are incredibly precious to God and matter deeply to us. We also realize, as we serve together, how immensely fortunate we are—with food and health, with land and resources, and with a loving community.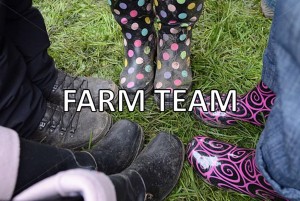 During the growing season, we have regular work days (Thursdays from 6 PM onwards, and Sundays from 8 AM) led by a member of the farm team. You can also help on other days by checking the task list on the back of the farm shed door. You don't need to have gardening experience, or be a church goer – all are welcome and appreciated. SSL hours are available for middle and high school students. If you are new to the farm, or if you have questions, email the Farm Team.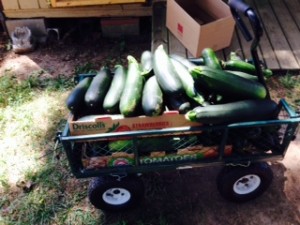 Farm produce is distributed to a number of groups working with the homeless and hungry in our local community. This year, we are distributing most of the produce to families in need in partnership with Manna Food at two of their distribution sites, as well as to Shepherd's Table. To help with distributions, sign up online, or send us an email to find out more.
Come and be a part of bringing veggie-happiness to our neighbors in need. Thanks in advance!
Beekeeping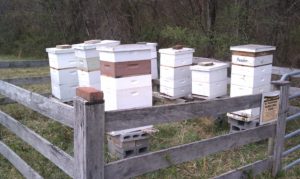 Ten years ago, we installed honeybee hives at Cedar Ridge as part of our commitment to manage our resources well, and from a desire to contribute to the environmental wellbeing of the broader community. Our honeybees not only pollinate the plants on our property, but also pollinate other plants, typically within a two-mile radius.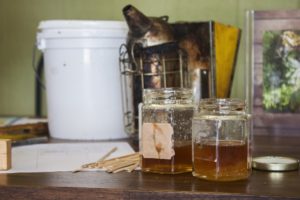 By avoiding use of any chemical treatments, we promote healthy bee colonies by allowing nature to choose genetically stronger bees.
Even though we only have 3-5 hives at any given time, we learn a great deal from our little workers. An average female worker bee produces 1/12th of a teaspoon of honey in her lifetime, but working together as a community, one hive of bees can produce up to 100 lbs of honey in one year!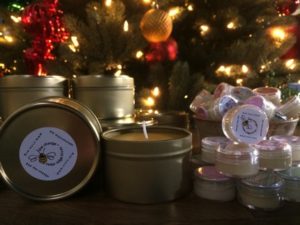 These amazing creatures also help us get in touch with nature as we tend the hives. In addition to honey, they produce wax for making candles and lip balm. And they provide us a way to get to know each other as we get to know them.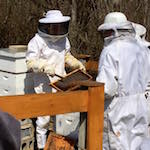 Cedar Ridge offers bee workshops on a regular basis, and welcomes youth and adults to learn how to care for bees, and harvest the honey and wax. Curiosity and a degree of commitment are needed, but no prior experience is necessary.
For more information, contact Matthew Dyer.
Geocaches
Explore the Cedar Ridge property with Geocaching! A great way to enjoy nature and explore … especially with kids!
What is Geocaching? Geocaching is the recreational activity of hunting for and finding a hidden object using coordinates or waypoints.
How do you Geocache? Start by going to geocaching.com to find caches near you. Use their app or GPS to zero in on a cache, and log your find.
There are now FOUR geocaches on Cedar Ridge property. Happy Hunting!
Interested in renting our property for an event?
Whether it's a private wedding, birthday party, shower, or memorial service, or a non-profit organization fundraiser, performance or gathering, our property and facilities may provide an ideal setting to meet your needs.