We currently have 13 Cedar Ridge Discipleship Groups led by the following people.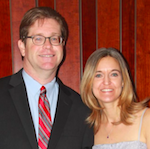 Sarah Burke and Noel Lloyd
Sarah and Noel were married in November, 2016. Originally from the mid-west, Sarah began attending Cedar Ridge in 2003, after relocating to Maryland. She works as Cedar Ridge's Director of Administration and Communication, and has two adorable children. Noel is the Director of Communication at the Alliance for Aging Research in Washington, D.C.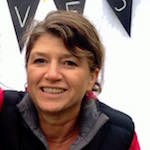 Lisa Dyer
Lisa facilitates the group that meets in the Brookeville area. She believes being part of a group that is fun, caring, open minded and never dull makes getting together each Wednesday easy. She also thinks the group's weekly potlucks are the best!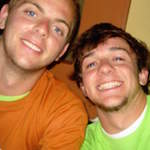 Derek Harwerth and Nate Peterson
Derek and Nate are recent graduates from the University of Maryland. Derek works at the US attorneys office in Baltimore, and serves on the board here at Cedar Ridge. Nate works as a 3rd grade teacher in Montgomery County, and is excited to be part of this new small group!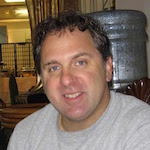 Scott Harwerth
Scott has been attending CRCC with his wife and family since 1991.  He has been leading this men's discipleship group for the past 10 years.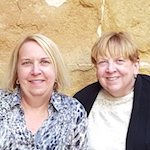 Colleen and Janet Heitkamp
Janet Heitkamp and Colleen Heitkamp  are sisters who have been involved in leading different types of discipleship groups since their college years. Both have been attending Cedar Ridge Community Church since 2002. Their group is very relational and has a casual style while going over the material for the studies. We meet in Southern Howard County.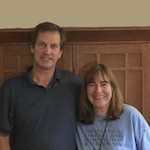 Heidi and Mike Mansen
Mike and Heidi Mansen have been attending Cedar Ridge since the fall of 2003.  They have three children: Doug and Greg, who are currently seniors at Springbrook High School and Ella who is in the 7th grade at White Oak Middle School.  The entire family enjoys volunteering at Cedar Ridge and very actively participate in and volunteer with the band and theater groups at both schools.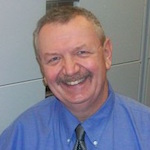 Brian Markley
Brian is a long time Laurel resident. He has worshiped at Cedar Ridge for several years and been a part of the Greenbelt discipleship group for the past 4 years. He is in the medical field, working for a neurology practice, and loves music.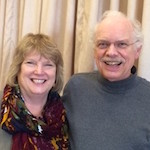 Dave and Pat Martinsen
Pat and Dave Martinsen have been attending Cedar Ridge since May 2012. They recently retired and are enjoying having two grandchildren in the area.  They are avid readers.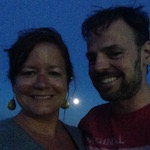 Steve and Tinica Mather
Steve and Tinica Mather have been attending Cedar Ridge since the mid 90's. They both work at the Maryland School for the Deaf; Steve as a middle school language arts teacher and Tinica as a registered nurse. They have 2 children, Will (14) and Violet (9). At CRCC, they've served as leaders in various roles. Currently Steve is the treasurer on the board and Tinica is the outreach coordinator on the pastoral team. They've been leading a discipleship group based in the four corners area of Silver Spring for 5 years.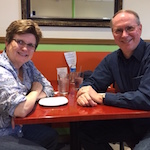 Cindy and Dan Norell
Dan and Cindy Norell have been discipleship group leaders for a number of years. They have also been active in marriage mentoring, teaching Sunday School, and Local Economic Justice. They have lived in several different countries and are interested in social justice, deepening their prayer life, and becoming more faithful followers of Jesus even in the midst of the ups and downs of life.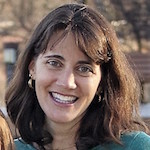 Alison Pasternak
Alison Pasternak is an economist at the U.S. Department of Labor and lives in Columbia with her husband, two teenage daughters, and their cockapoo. She volunteers in the Cedar Ridge nursery, as well as for her homeowners association.  She enjoys reading and running, but not simultaneously.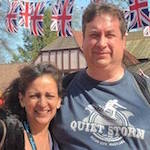 Alice and Mike Tope
Alice and Mike Tope have been attending Cedar Ridge Community Church since Spring 2015.  Over many years, we have attended many great churches in the area, and the personality and people at Cedar Ridge seems like a good fit for us.  As recent 'empty nesters,' we are are looking to help build a community to know Jesus. Alice is from 'the City' with a liberal arts background.  Mike is mid-west engineer type. Both are growing in faith.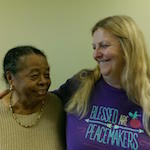 Jeanne Triplett and Melanie Griffin
Jeanne is a senior, a mother, a grandmother and a retired teacher who has attended CRCC since 2012. In addition to enjoying and absorbing God's messages every Sunday, she looks forward to disciple group discussions. Group participation helps her to learn life lessons through sharing with a diverse group of church members, and broadens her goals for a peaceful and God-directed life. Melanie has attended Cedar Ridge since 1993, and has volunteered in many capacities. She is passionate about spiritual growth and healing, reading and writing, and protecting and enjoying God's creation. She serves on the Pastoral Team as Pastor of Prayer and Healing.
View a list of available groups here.