Activities for Children and Families
Each Sunday, we provide ways for children and their families to connect with God.
Preschool
Elementary
Especially for Children and Families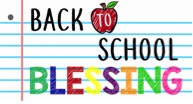 God of fresh starts and new beginnings, we bring ourselves, our big feelings, and our backpacks to you. Last year was different from what we expected. We couldn't see our friends or play on playgrounds, we learned at home, in masks six feet apart, or both. In all these changes, we may have felt sad and alone.
God, our friend who comforts us, hold us close and wipe our tears. In our backpacks, we carry blank pages, sharpened pencils, and pointy crayons, and in our hearts, we carry big feelings, unanswered questions, and hopeful expectations. There are endless possibilities of what this new year might bring— of what we might learn, who we might meet, and who we might become.
God, our friend who is always with us, be with us through it all. Be with us as we ride the bus. Be with us as we walk. Be with us as we buckle seat belts, zip-up jackets, and tie shoes. However we get there, and whatever we wear, bless this journey into something new.
For the grown-ups going back to school, With-Us God, be with them too. Thank you for our teachers, helpers, caregivers, and leaders, and for all they do to help us learn and grow. God, our friend who's full of wonder, fill their hearts and bless their hands.
Amen.
(By Illustrated Ministry)
Today's lesson
It's back to school time for many of us. Here are some thoughts and songs that will help get ready for school, whatever that may look like for your family.
Today's lesson with  Mr. Bryan
Today we'll travel back in time to the Sea of Galilee and the town of Capernaum. We'll "sea" the place where Jesus taught and healed many people and watch one of those stories.